The most compact 20 Watt Mod on the market is now available – Check out the pictures below and you will see the iStick compared to a glass 30ml bottle, the iStick has a 454 Big Block RDA on it. 
The iStick is now available in extremely limited quantities & 4 colors: Black & Silver
20W or 5.5V Capability
2200MAH Battery
Size: 75mm*21mm*32.8mm
Multiple protection functions such as atomizer short-circuit protection, over 10s protection, low-voltage protection.
Features:
1. OLED screen: Its particularity lies in the incremental OLED screen displaying battery condition, resistance, wattage and voltage.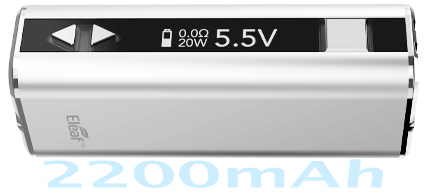 2. 2200mAh large capacity: Although it can fit in the palm of one hand, the capacity is huge. The 2200mAh capacity helps you enjoy the vapor all day long.
3. 20w strong output wattage: The output wattage can be up to 20w which caters your heavier vapor demand.
4. Adjustable voltage: The voltage is adjustable vary from 3.0V to 5.5V according to your vaping habit.
– See more at: http://www.eleafus.com/eleaf-istick.html#sthash.n9O0gVNY.dpuf
Eleafus is brought to you by Joyetech USA
The Deal: Use code VPDeals10 to get $5 off the iStick
Direct Link: http://www.eleafus.com/e-cigarette/eleaf-istick.html